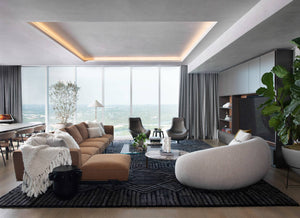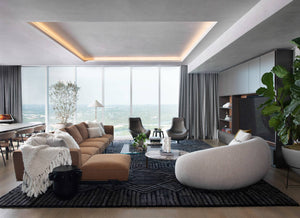 Completed: 2022
Location: Austin, TX
Designer: Merrill Alley and Design Team
Photographer: Molly Culver
This project started with the intent of making modifications that captivate the eye while masking the functionally of those same features. We added archways to create a profound sense of arrival while creating bands of transition. In turn, the arches inspired more curvilinear architectural features which were then mirrored with furniture pieces and accessories, like the circular snake rug, curved sofa, and rounded barstools. Knowing the large size of the custom island, an unique stone was the only material that made sense to use. Having worked with these clients previously we wanted to make a departure from their typical color palette into deep, moody, richer tones. The green stone countertop was a great way to bring in a rich color that provided a punctuation of contrast. The Dada Kitchen channeled wood and glass doors were unlike anything else we have seen on the market and we knew they would compliment the space. They created a wow factor while also providing more much needed storage. Reworking the original floor plan we created a master suite with completed concealed wardrobe, appearing as a mirrored wall. This project successfully achieved its goal of creating modifications that blend aesthetic appeal with functional features, resulting in a truly unique and visually stunning space.